Owner/Yoga Instructor
Cheryl Van Sciver
Cheryl Van Sciver has been practicing yoga for several years and in many styles. Like many people, she first came to yoga for its physical benefits. After committing to a regular practice, she began to incorporate yoga philosophy and teachings and has seen firsthand the benefits that a regular yoga practice can bring to a person's life. Peace of mind, physical healing, and spiritual awakening have all been part of her journey. As she began to feel the transformative power of yoga in her own life, she was inspired to share her experiences with others and completed her 200-hour Bhakti Method Yoga Teacher Training. Cheryl also trained at Budokon University in Miami, Florida with Cameron Shayne and is certified to teach Budokon Yoga.  She is a registered yoga teacher through Yoga Alliance.  She is also Reiki I certified.
Cheryl believes passionately that yoga is for people of all ages, at any level, and from all walks of life, and she tries to convey that message both by example and as a teacher. Cheryl's educational background is in Health Sciences, and she also has a Masters in Business Administration. Cheryl is a life-long South Jersey resident, avid skier, and proud mother and grandmother. A strong believer in community service, Cheryl is the recipient of the prestigious NJ Commendation Medal for her volunteer efforts on behalf of military families. South Jersey Magazine also named her a South Jersey Superwoman.
Owner/Yoga Instructor
Kate Moats
Kate started her yoga journey 5 years ago as a form of exercise. She started practicing once a week and quickly progressed to making time on her mat almost daily. When her practice evolved and became both physical and spiritual, Kate knew she had to dedicate herself to sharing the yoga lifestyle and signed up to become a certified 200 hour Hot Vinyasa Instructor. Recently Kate got a second certification in Budokon Yoga, which is a blend of yoga and mixed martial arts in a constant moving meditation. Katie also works at Rizzieri Studio Salon, an AVEDA concept salon, in Voorhees as a Senior Stylist. Katie fell in love with the AVEDA mission of being a natural products company with a commitment to the environment.
Kate's passion for balance within the body and the environment has inspired her to help others down this path of mindful wellness and healthy living. Her passion for life is absolutely contagious, as well as her signature laugh. Kate is a life-long South Jersey resident and shares her alma mater with Cheryl – both are proud Rancocas Valley Red Devils. She spends her free time connecting with her close-knit family and friends and you can even find her on the golf course. Kate's future goals include pursuing her certification to become a certified Ayurveda nutritionist.
Yoga Instructor
Jenna Kelly
Jenna's philosophy about fitness revolves around the singular concept that every person is a unique individual. She has found that there is just no one size, fits all model that is capable of addressing her client's goals, likes, dislikes, and motivation style. Just as her own personal fitness journey has had successes and failures, Jenna's clients also come to her with these same stories. Part of Jenna's ability to form lasting relationships with her clients is her ability to really hear what her clients are saying and craft a fitness plan that puts them on the path to their vision of health and wellness.
Jenna's training style has developed through a mix of education, former military service, life experience, and focusing on the types of movement she is passionate about. She has found that by combining what she loves about yoga with the functional aspects of strength and conditioning, she has discovered a blend of movements that not only maximizes results, but does it in a way that reduces the risk of injury and enhances everyday life activities. This makes Jenna's approach accessible to all levels and all ages.
Jenna holds her Personal Training Certificate through the American Counsel on Exercise (ACE) and a Functional Training Certificate from Perform Better. She is Certified through Balanced Planet Yoga to teach YBarre and Yoga Sculpt classes and will complete her Yoga Teacher Training with Balanced Planet Yoga this winter.
Yoga Instructor
Eric Moats
Eric has proudly supported Kate's dream of Balanced Planet Yoga from the start.  He sat right by Kate & Cheryl putting together Ikea furniture and making sure to keep Cheryl's kids fed.  His positivity and support are a big part of BPY's success.  So it was only natural, when he made the decision to become a yoga teacher.  As a life-long believer in the benefits of fitness, Eric brings a unique perspective to the practice of yoga; and oh those abdominal workouts!  Eric teaches BPY Flow and BPY Flow RED classes at the studio.
Yoga Instructor
Wendy Berrovoets
Wendy Berrevoets has been practicing yoga since she started massage training in 2002. She has experienced the healing of yoga not only physically but emotionally and spiritually. Wendy received her 200 hour Barkan teacher training in July of 2002 and 200 hour Bhakti teacher training in July of 2014. She also completed her 50 hour Budokon Yoga Teacher Training.  She is a licensed massage therapist and certified massage instructor specializing in anatomy and physiology. Wendy has a true passion for teaching what she loves to do, helping others grow physically and spiritually.  Wendy is the lead instructor for Anatomy for Balanced Planet's Yoga Teacher Training program.
Yoga Instructor
Holly Horner
Holly graduated from BPY's 200 YTT and has been on our schedule ever since.  She teaches a variety of classes at the studio – from a power vinyasa and inversions class to slow flow and beginners.  She also regularly hosts super fun workshops – teaching our tribe how to make dream catchers and malas.
Yoga Instructor/Reiki Master
Kelly Behrend
Kelly believes that we can heal our hearts, minds, and bodies through the power of nature. Her path to yoga initially started with her own self-healing work through Reiki for two years. The effects were so powerful that she later became a Reiki practitioner and energy worker herself, studying with shamans in North and South America to learn how ceremonial plant medicine, essential oils, flower essences, precious stones, and other natural healing modalities can transform our physical and mental health. Later, she expanded this energy work into a physical yoga practice with her sister Kate (co-owner of BPY) and was one of the first graduates of BPY's 200h Vinyasa Teacher Training. Kelly is passionate about working with yogis who are interested in taking their physical practice to new spiritual levels. Her hope is to create transcendent experiences for her students that bring Reiki, guided meditation and sound healing into class to help yogis access higher states of being. Her future goals include becoming certified in Kundalini and Nidra, as well as learning to play the harmonium.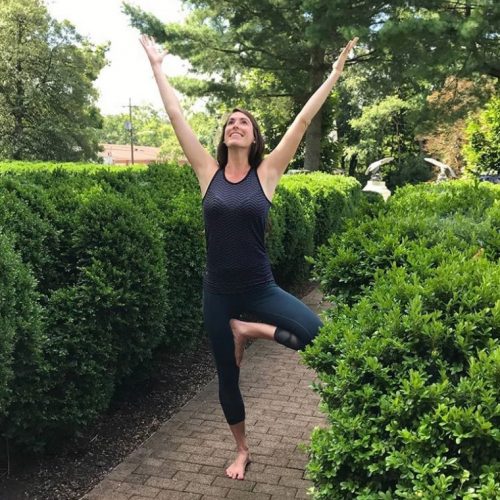 Yoga Instructor
Melinda Roberts
Melinda was introduced to yoga at the gym in 2012 and it quickly became a part of her exercise routine.  As her practice developed, yoga moved beyond just a gym exercise and became more of an exploration on and off the mat.  After taking classes with several Balanced Planet Yoga instructors, Melinda felt it was time to expand her knowledge of yoga philosophy and strengthen her personal practice.  When she heard that BPY was offering their first Yoga Teacher Training she knew immediately that it was the right place and time to become a yoga instructor.  She received her 200-hour vinyasa yoga teacher certification in July 2017 and can't say enough good things about Kate and Cheryl's program and instruction.  Off the mat, Melinda is a school librarian and keeping with the stereotype really loves her two cats.  Melinda also loves to read and will gladly provide book suggestions. Melinda and her husband, Phil, are both natives of South Jersey and enjoy traveling. Their greatest adventure was a 10 week, 14,000 mile road trip across the U.S. in a 1991 VW Vanagon.
Yoga Instructor
Carolina Mijares
Carolina regularly teaches BPY's Thursday night Happy Hour slot.  She is a graduate of the studio's 200 HR YTT program.  We love her calming presence and empowering classes.
Yoga Instructor
Kathleen Celano
Kathleen started practicing yoga in her early 20's with her mom. As her interest in yoga grew, she began practicing more and more, but her practice was usually at home watching YouTube videos. After a brief stint with Bikram yoga, she found her flow with vinyasa. It was then that Kathleen realized that yoga was much more than just a workout she enjoyed – it made her happier and less stressed. She wanted to share her love of yoga with all of her friends and family, so she decided to take her yoga practice further by enrolling in a yoga teacher training. She completed her 200-hour vinyasa yoga teacher training at Balanced Planet Yoga's inaugural YTT in Spring/Summer 2017. Kathleen loves traveling – particularly to anywhere where there's a beach or an ocean – and is excited to see where yoga will take her.
Yoga Instructor
Kait Reeves
Kait Reeves is a graduate of BPY's 200 Hour YTT program.  We knew from the second she taught her very first yoga class, she was going to be a beloved teacher at Balanced Planet – and we were so right!  Kait exudes love and infuses her classes with this magic ingredient.  Join her regularly each and every Tuesday at 6:45 pm for her signature Vin to Yin classes.
Yoga Instructor
Robert Healey
Bob Healey is a graduate of Balanced Planet Yoga's 200 HR YTT Program.  He has sought to expand his knowledge of yoga and its philosophies through additional trainings such as Yin Yoga.  He teaches our Wednesday night Happy Hour slot, and you will find him also subbing our Sunday night Yin classes among other things.  We are grateful for the unique perspective he brings to our BPY tribe!
Yoga Instructor
Bri Rifkin
Bri is a BPY 200 HR Yoga Teacher Training program.  She is a powerhouse – both in the studio and out, and we love the energy she brings into our BPY hOMe.  You can find Bri hosting our Sunday 4 pm BPY Basics.
Yoga Instructor
Stacey Cerasi
Stacey has been working as a yoga instructor 2017 to present. She has coach 4 Power Yoga Teacher Trainings and continues to be an enthusiast of both a personal practice as well as aiding others in growing physically and educationally. Stepping into her new role as an instructor at Balanced Planet Yoga her background includes gentle yoga, yin, guided meditation and heated vinyasa class. Stacey enjoys collaborating with other instructors to create blissed out experiences like Handstand Workshops, Arm Balance and other Inversion workshops. She enjoys theming to sequences, as well as, weaving the chakras, and "myths" of the asanas into classes too.
Catch her on her mat, she's been a yogi practitioner for well over a decade. She loves to practice with her students, but her true passion lies in helping a new student find their edge. "Yoga has offered me the opportunity to knock down doors that I never thought possible! I am the strongest physically, more so than ever before, and the mental clarity that yoga has to offer has lead me to live a life of peace and tranquility. That in turn, I wish to give back to my students."