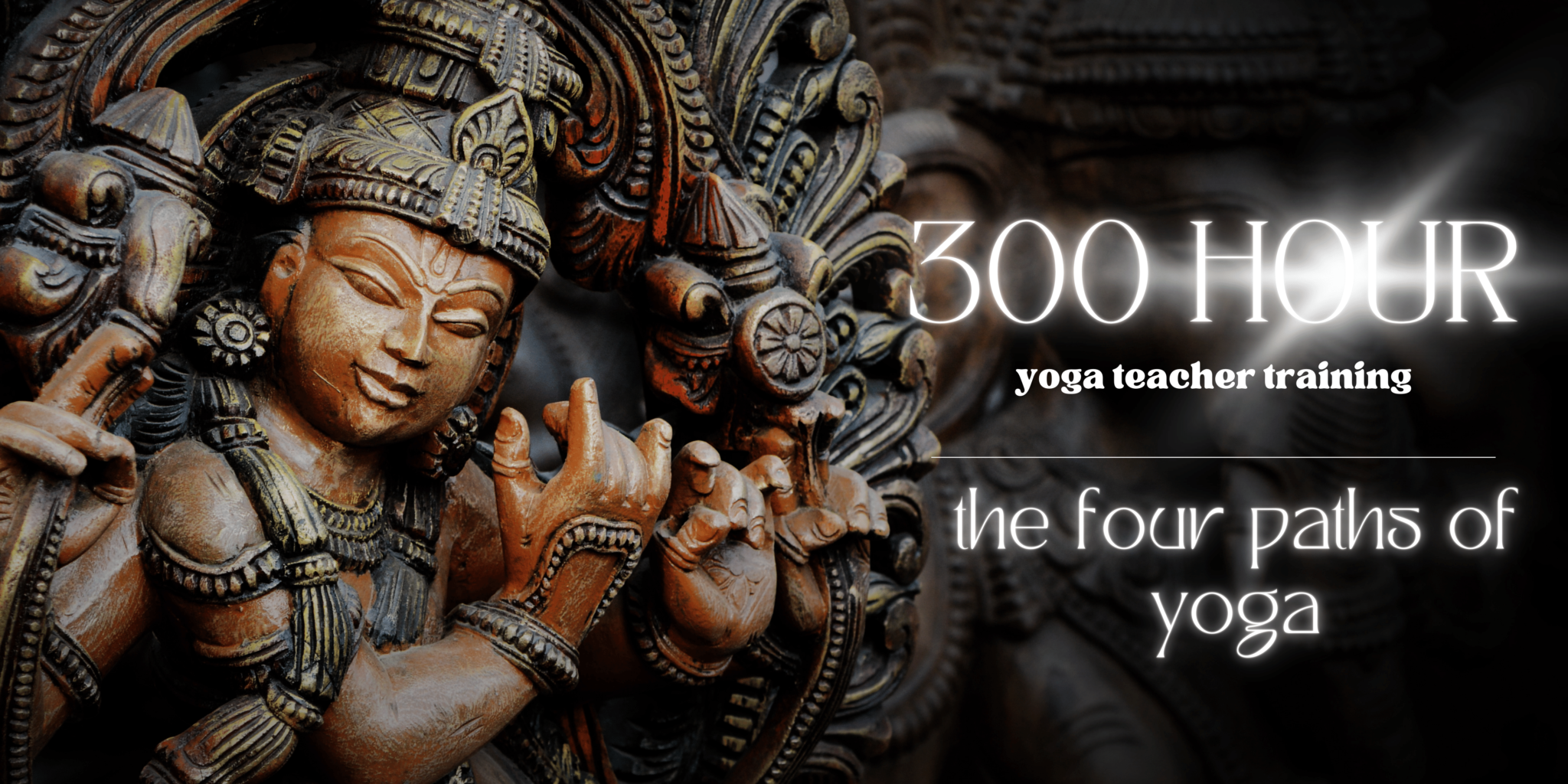 Embark on a transformative journey of self-discovery and enlightenment with our comprehensive 300-hour Yoga Teacher Training program. Our program draws its inspiration from the profound teachings of the Bhagavad Gita. Together, we will dive deep into the four paths of yoga – Raja, Jnana, Karma + Bhakti. We will look at philosophies and practices of these paths and take a holistic approach to learning about how to integrate these teachings into our own lives as well as share them with our future students. This program will empower you to become a humble yet knowledgeable and compassionate yoga teacher, capable of guiding others on their path to spiritual growth and well-being.
Our 300-Hour YTT is built around the idea that most of us our householder yoga practitioners. We understand that 300 hours is a significant time commitment, and we have worked to build a training that allows you to take all the time you need to complete your 300 hours using a module format.  Each module is 75 hours or 3 weekends and will occur on a yearly basis.  You have the freedom to take 1, 2, 3, or 4 modules in any given year.  Get it done in one year, or stretch it out over 4 by taking one module a year.  
Our 300-Hour Program is broken down in four modules – 75 hours each.  You decide the pace – take 1 module a year or all four sequentially.  You graduate when you complete all four.
Our 300-hour Yoga Teacher Training program is designed to provide you with a comprehensive understanding of the four paths of yoga as described by Sri Krishna in the Bhagavad Gita. Led by experienced and passionate yoga teachers, this immersive training will deepen your personal practice, expand your knowledge, and equip you with the skills to guide others on their yogic path. Whether you are a seasoned practitioner or a yoga teacher looking to advance your skills, this training will empower you to embody the essence of yoga and inspire others with humility, wisdom, devotion, selfless service, and meditation.
2023-24 Training Schedule:
Each session we will meet Thursday 6-9, Friday 6-9, Saturday 8-6P, and Sunday 9-5P
MODULE 1
Sept 2023:  14th – 17th
Oct 2023:  12th – 15th
Nov 2023:  16th – 19th
MODULE 2
Dec 2023:  7th – 10th
Jan 2024:  11th – 14th
Feb 2024:  8th – 11th 
MODULE 3
Mar 2024:  14th – 17th 
Apr 2024:  11th – 14th 
May 2024:  9th – 12th 
MODULE 4
June 2024 – 13th – 17th 
July 2024 – 11th – 14th
Aug 2024:  15th – 18th
Ready to join us?  Click here to sign up now!
Jump in on any module to begin your 300-Hour Yoga Teacher Training Journey
MODULE 1:  Raja Yoga: The Path of Meditation and Self-Control – Explore the path of meditation and self-mastery as explained by Patanjali – Raja Yoga. We will dig deep into the practices of pranayama (breath control), asana, concentration, and meditation to still the fluctuations of the mind. Learn techniques to enhance your practice and develop the skills necessary to guide your students into deep states of meditation. Understand the body's subtle energy systems and explore the practice of Kundalini awakening. Cultivate advanced skills and knowledge that will enable you to humbly lead others on a profound inner journey.

 

MODULE 2:  Jnana Yoga: The Path of Knowledge
Immerse yourself in the profound wisdom of the ancient yogis who have come before us as you explore Jnana Yoga, the path of knowledge and self-inquiry. By studying ancient scriptures and philosophical texts, you will deepen your understanding of yoga philosophy, including concepts such as the nature of the self, the illusion of the material world, levels of consciousness, and the interconnectedness of all beings. Develop the skill of self-reflection and introspection, enabling you to guide your students in unraveling their true nature and finding clarity amidst the chaos.

 

MODULE 3:  Karma Yoga: The Path of Selfless Action
Experience the transformative power of selfless service through Karma Yoga, the path of action. Understand the importance of serving others with compassion and kindness, and learn how to integrate karma yoga into your teaching practice. Explore practical ways to contribute to your community's well-being and positively impact the world. Discover the joy of giving without expectations, and inspire your students to embrace service as an integral part of their yoga journey.

 

MODULE 4:  Bhakti Yoga: The Path of Devotion
Discover the path of love and devotion with Bhakti Yoga, the path Sri Krishna tells us is the most accessible and best designed for our current age of Kali Yuga. Immerse yourself in the practice of devotional chanting, kirtan, and mantra meditation, cultivating a profound connection with the divine. Learn to infuse your classes with heartfelt intention, creating a space for students to deepen their spiritual connection and open their hearts. Explore various devotional practices and ancient rituals, and tap into the transformative power of love and surrender to create a sacred atmosphere within your teaching.